To help you get your business off on the right foot, we have created the "Launch Guide". This will guide you through how to set up your business, set goals, and begin finding customers. Download a copy of the Launch Guide below and watch the Launch Guide video with your Enroller or simply on your own, and use this article as a guide to help answer any questions you might have.
BASICS
Company Information
Phone: 1(866) 460-7241
Email: support@lifevantage.com
lifevantage.com
Shop.lifevantage.com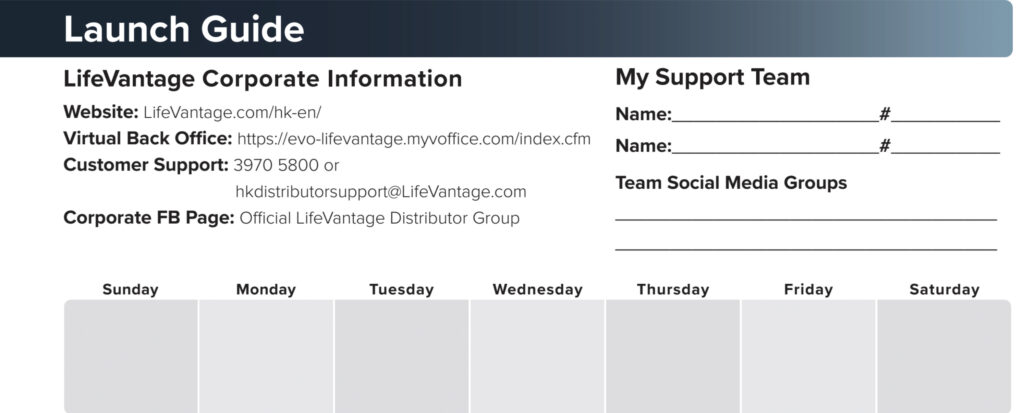 My Support Team
Remember to grab all of your personal contact information for your upline, enroller, and team members. Communication is key to a thriving organization (keep the information secure and do not share it with third parties to comply with data privacy and security regulations). Don't forget to sign up for and join any Facebook Groups your team might have to stay up to date on all promotions, sales, information, and initiatives that your team might be a part of.
EVO _ Virtual Back Office
Here you can manage your subscriptions, look at your downline (all of their products and purchases), get training, find compliance education, as well as any customer support contact information you might need for any and all markets available to you and your teams.
Playbook
Another aspect of Social Media is the marketing tactics, social assets, consistency, and messaging you use. The Monthly Marketing Playbook is a step by step guide to turn you into a Social Media wizard – regardless of your current knowledge or talents! Playbook also has a calendar to help you know when and where to post.
Meeting Scheduler
Don't forget to create your own calendar for Conference Calls and Zooms with your upline and support team.
Your Success
Get Focused
List out your 3 reasons for joining LifeVantage. In goal setting it's important to remember why you started and where you want to go.
This is a time to dig deep and be emotionally vulnerable with no one other than yourself! Dream again. The sky's the limit. Take this "Blue Sky" period to build dreams without expectations, shame, or editing. Set short term AND long term business goals – dream big, but accept reality.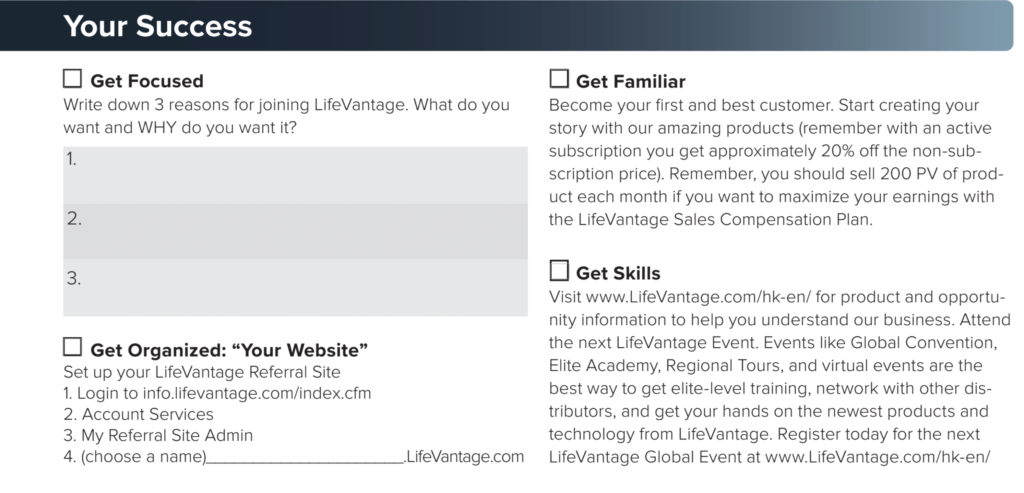 Get Organized
Login to the LifeVantage back office and create your personalized referral site. This is where your customers will shop! You want them to know it's you, and have easy access to everything you have to offer them!
REMEMBER!!! – Choose a name that's easy to remember. Long, confusing names or URLs may get lost or be misunderstood. Names that are concise are easy to remember, and are less likely to get mistyped by a customer wanting to make a purchase.
Get Familiar
Try all the products, document how you feel and if you want to be on a monthly subscription, now is a great time to set that up (you can manage your subscriptions in your back office). Be the expert for your customers that you wish you had when you were signing up – as awesome as your referral was, go one step further!
Get Skills
Make sure to visit LifeVantage.com for information on the product and opportunity, as well as to sign up for the next event. See the people you're working with in the field and learn from the best.
Set Your Pace
Use the Average Annual Earnings Disclosure as a worksheet to help guide you through where you want to be and how you plan to get there.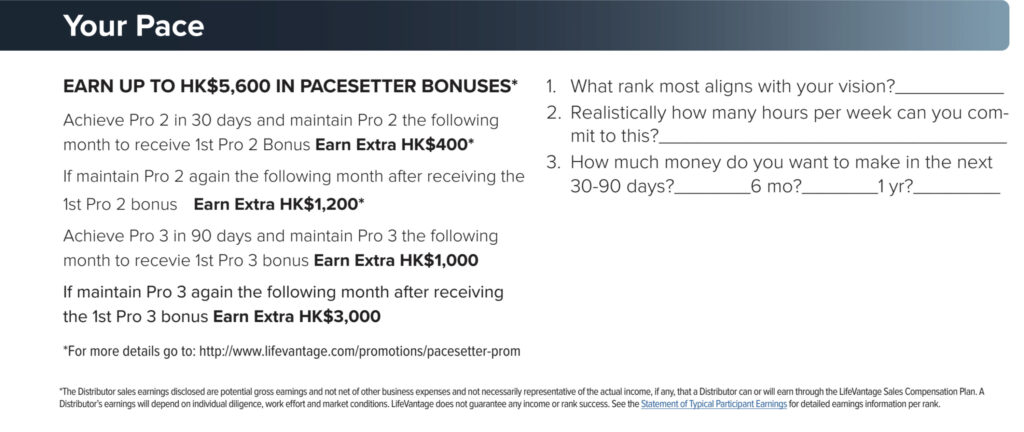 ITT – Invite Tool Team.
The simplest tool in helping your customers to try product and gauge their interest in becoming a distributor.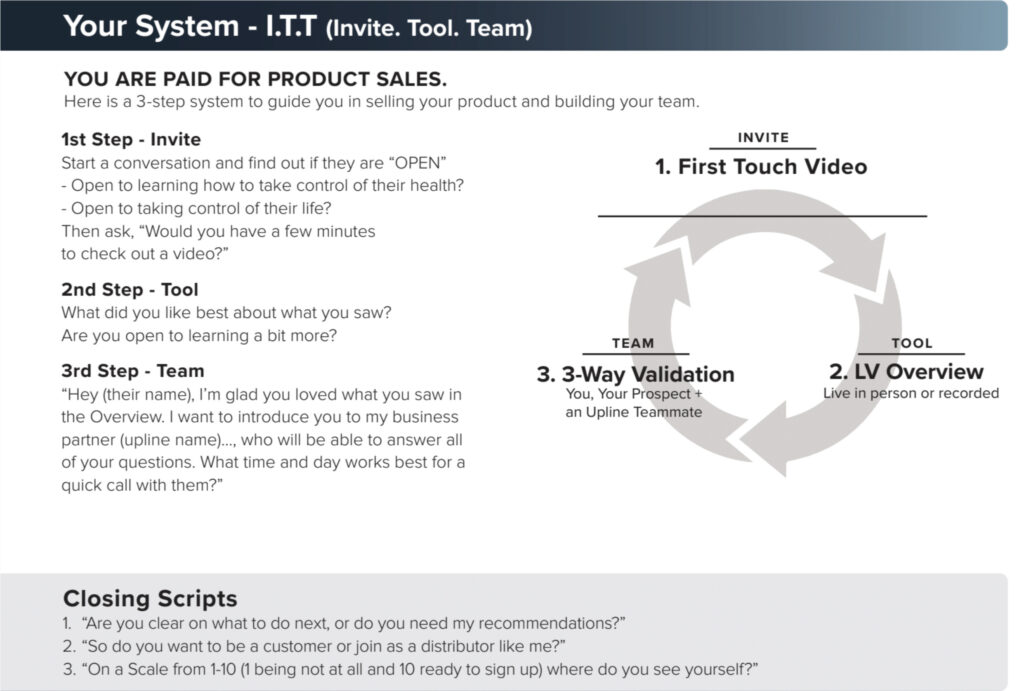 Invite
Start a conversation. Check to see if people are open to the opportunity of taking control of their health and their life. Send them to the First Touch Video and then follow up in the next week.
Tool
"What did you like best about what you saw?" This is a crucial step in gauging a prospect's interest on their terms! This allows them time to digest, really consider what the benefits are, and come back to you with a genuine and thoughtful answer.
Then use the "tool" – the LifeVantage overview – and discuss with your upline, support team, and other contacts.
Team
Introduce your contact to your upline support member. This is a personalized three way conversation with your contact and support member to use their upline support, story, influence, results, and expertise.
Close
Once you've used the three step ITT system, refer back to the Launch Guide for some helpful closing scripts. These can be used to close the sale of the product, or further the discussion with a customer and answer any questions they might have.
List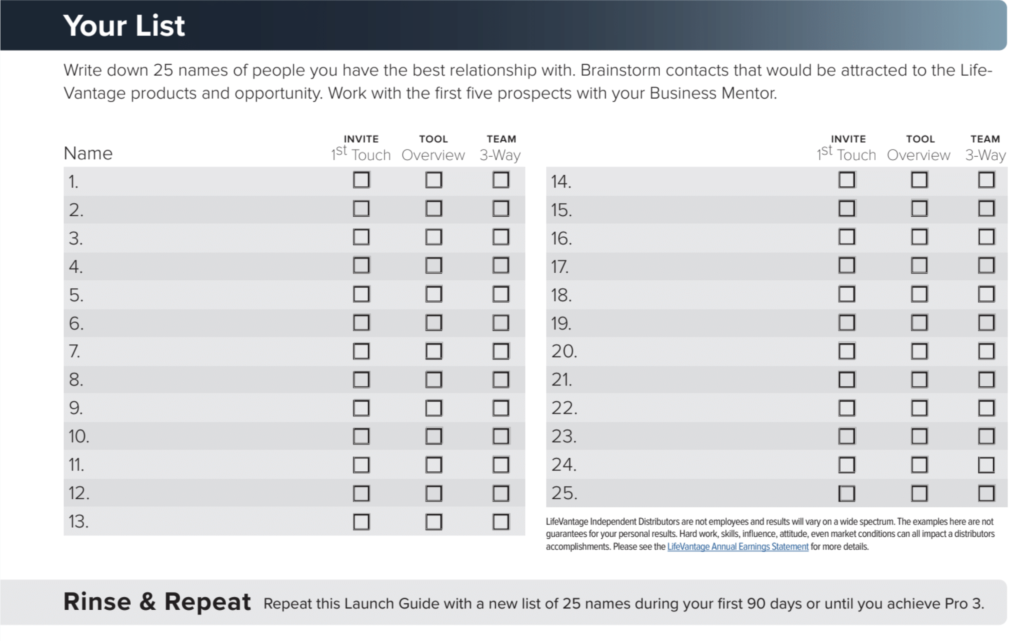 To begin utilizing the system – write down a list of 25 potential contacts that you could reach out to (use the memory jogger page if you need some help finding 25 names). As you begin reaching out, don't worry about making "mistakes". Remember, no one gets it perfect their first try – and practice makes progress!